The Space
P&M Studio is a 900 square foot space located on Chicago Avenue near California Avenue in Chicago, Illinois. White walls and 16 foot ceilings create a bright and open atmosphere, while south-facing windows fill the space with natural light.
Our versatile space is perfect for photo shoots and intimate events with up to 30 guests. We have hosted bachelorette parties, film screenings, art classes, and yoga lessons to name a few!
Included with space rental:
Backdrop options: white, black, and green screen
120″ diagonal projection screen
8′ x 8′ mobile wall with two color background options
Replica Surfaces® and mobile studio
Private dressing room area
Steamer
Garment rack
Various set and furniture pieces
18 matching folding chairs
6′ folding table
Dry erase board
Lighting equipment
V-Flats
Available for an additional fee:
Flower wall backdrops
Canon DSLR cameras
Variety of lenses + speedlites
Photo Booth
4K Short Throw Projector
Private sound recording room
Who is P&M?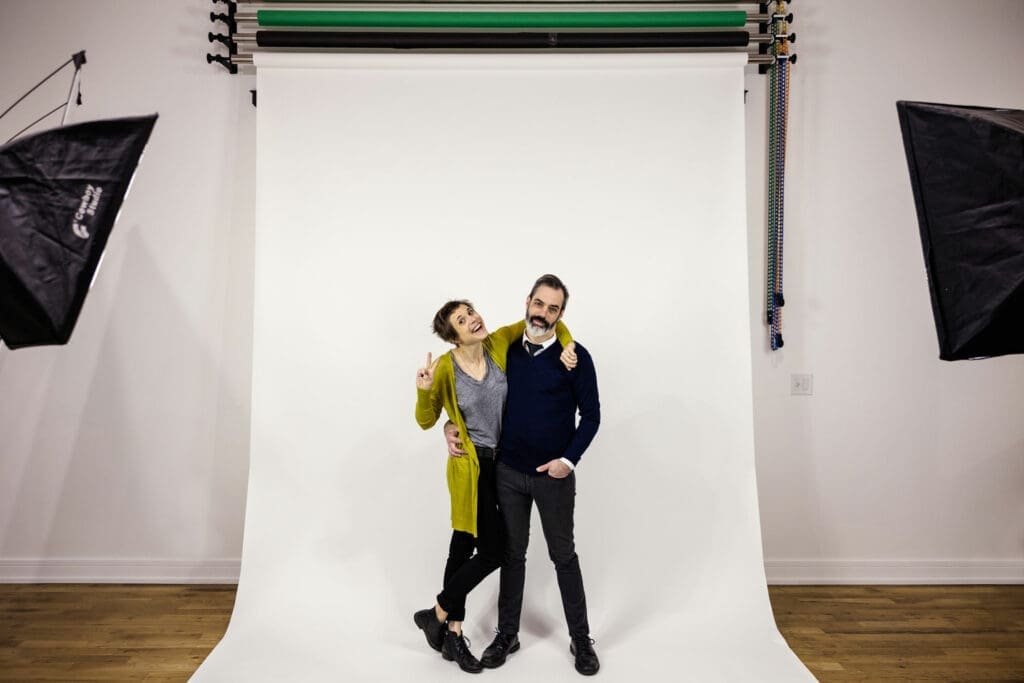 P&M Studio is owned and operated by us: Jeremy Pautz and Emma Mullins. We are two entrepreneurs and partners in life with decades of design and photography experience between us. Having a dedicated space to create has been a longtime dream, and we're excited to share it with you!
Whether you're in need of private workspace, a place to meet with clients, or a studio for your next shoot, our goal is to keep the space as versatile as possible. Looking for gallery space? Need a place to host your private event? Get in touch! Weekly and monthly rental options available.